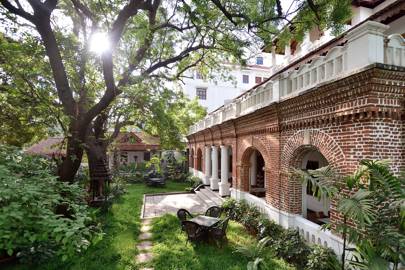 Few places in the world can be as spiritually nurturing as SVATMA, an oasis of birdsong, rippling water and shaded verandas in the city of Thanjavur, the capital of the temple-rich region of Tamil Nadu.
Rather than the traditional 21-day Ayurvedic practice of Panchakarma, Svatma's eight-day siddha program is a short but powerful detox, while also offering a whole host of spiritual practices, from hatha yoga and meditation on tap, to chanting practices with a Vedanta priest or sessions with a naturopathic doctor, there's plenty to explore.
You can also take part in Nadi astrology, a type of reading unique to the region based on an ancient book of leaves, or visit the nine Navagraham astrological temples, each dedicated to one of the Hindu deities – India's power-players boast of the life-changing effects, while Mexican billionaires have been known to jet here to discover the benefits for themselves.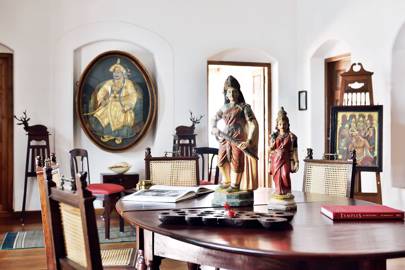 The food is healthy and delicious, following a strict diet of fruit and vegetarian thalis for lunch then soup and salad for dinner, combined with the twice-daily detox treatments, including hot oil massages, Indian head massages and the best reflexology, fresh herb scrubs and floral baths, for a truly holistic experience.
The highlight here, and mainstay of the programme, is based on the spiritual and physical effects of sound healing, with the first sound healing chamber in India. This deeply restorative treatment takes place on a bed that is constructed like the classical Indian Veena instrument, where a therapist plays the 27 strings, which tallies to the 27 vertebrae in your spine, as you lie on top.
This acoustic massage takes you into such a deep, dreamlike, relaxed alpha state that after a one hour session leaves you feeling like you've shed ten years. This is the most perfect place to visit when you need a break, want to leave it all behind or are trying to inject a little quietness, spirituality or depth into a routine existence. Expect to experience an epiphany and return glowing with the shiniest, bounciest hair (after all the week's oil has sunk in), thinner, refreshed, and just, most importantly, the happiest you've ever been.
Ampersand Travel offers a 7 night stay at SVATMA, Tanjore, from £2,450 per person, including accommodation on a full board basis as well as the full Siddha, Sound Spa and wellness programme, including international and domestic flights, private transfers and privately guided sightseeing in Tanjore and the surrounding temples; ampersandtravel.com