Gone were the days when the muscles and ligaments flex to our heart's desire. As part of the older adult club, we find ourselves in need of activities that would stretch the aging bones, but not necessarily stress it out to the point of triggering pain.
The perfect way to exercise the whole body and give it the flexing power that it needs is by doing yoga. Ever gentle and slow, there are many types of yoga poses that older adults can try out.
Here we present the benefits of yoga for older adults, the best yoga poses you can instantly try out, and a more passive yet equally effective exercise alternative for those with limited mobility.
Benefits of Yoga for Older Adults
Regular exercise routines that are easy in the body yet improves balance and flexibility are important for older adults to maintain a high quality of life.
Yoga for seniors can help prevent the onset of osteoporosis by strengthening the bones through regularly practiced movements. Yoga is also a great stress reliever to let go of any tension that may be stuck in parts of the body – like the back, neck, shoulders.
Regular yoga poses also helps lower the blood pressure while stabilizing the heart rate, helping older adults breathe easier throughout the day. The ease of breathing and well-flexed bones and muscles help alleviate aches and pains, especially beneficial to those suffering from osteoarthritis.
And because yoga can be so relaxing, older adults report improved sleeping habits and an increasing mood positivity, lessening the risk of anxiety and depression in the long run.
Best Yoga Poses for Older Adults
Restorative Yoga
Restorative yoga is perfect for older adults who have been feeling weary and drained for the past days. It amplifies the mindfulness discipline and integrates it into each movement of the body.
Each movement is aimed to align the physical and mental state of the individual by practicing stillness, followed by gentle movements for extended periods of time.
Here is a 16-minute guided restorative yoga to help relieve strains and weariness caused by aching joints.
Hatha Yoga
Hatha yoga is a branch of yoga that typically lasts for a longer duration, usually from 45 minutes to 90 minutes long.
Regular practice of Hatha yoga aims to strengthen the body's core muscles to support good health and improve strength amidst the aging process.
Here is a shorter version of Hatha yoga for beginners, 20 minutes in length, each movement focusing on slow-paced movements to strengthen muscle functions.
Yin Yoga
Similar to restorative yoga, Yin yoga is also a passive type of yoga that is restorative in nature. However, while restorative yoga is aimed to be 100 percent comfortable, the practice of Yin yoga applies gentle, healthy stress to the joints and connective tissues.
Yin yoga incorporates principles of traditional Chinese medicine, stretching different muscle groups deeply to stimulate different acupressure points.
Here is a 30-minute Yin yoga class that begins with a child's pose to stretch tight hips.
Vinyasa Yoga
Vinyasa yoga is an approach to yoga in which the body moves from one pose directly to the next pose. Although the Vinyasa flow has the potential to be extremely vigorous, specialized Vinyasa yoga movements for older adults are characterized by slow movements that are relatively easy to keep up with.
The seamless posture movements during the sessions are sure to boost the mood and relieve tension in the body, giving a much-needed sweat out routine.
Here is a 60-minute Vinyasa yoga class for older adults who are looking for a more active and upbeat yoga session.
Chair Yoga
Chair yoga is comprised of modified Hatha yoga poses designed for older adults with limited mobility. These practices can be done while sitting on a sturdy chair or while standing and using a chair for support.
Chair yoga integrates increased ranges of motion in specific body parts, one step, and one movement at a time while focusing on breathing exercises.
This yoga type is perfect for older adults with limited mobility but would like to maintain healthy circulation in the body.
Here is an 18-minute gentle chair yoga class for those with a limited range in motion.
A More Passive Exercise Approach for Older Adults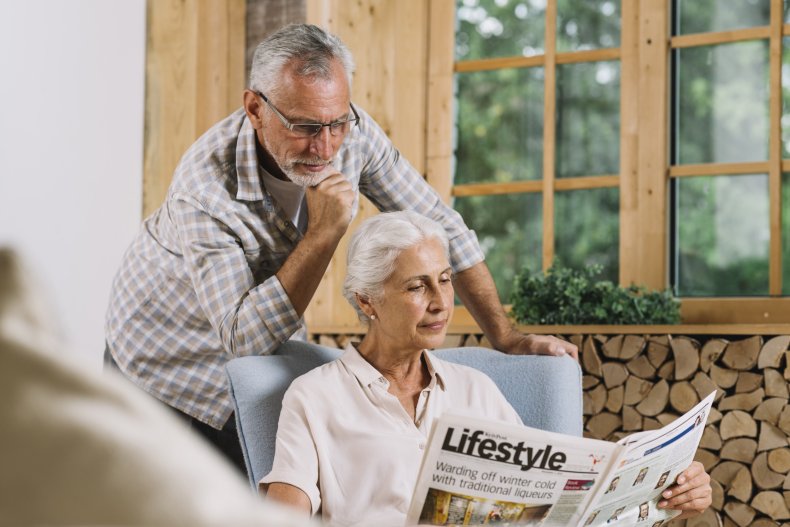 There are some days when we cannot keep up with a regular yoga routine. Yet, it is recommended for older adults to engage in regular exercise activities to maintain healthy circulation.
LegXercise is a more passive yet equally effective exercise alternative designed for days when we simply do not have the energy or the strength to engage in other active exercises.
LegXercise is a passive exercise technology that moves the feet back and forth to mimic the natural muscle activity of walking, all in the comfort of your home while sitting down and enjoying your choice of book or TV series.
Use LegXercise for days when you need a passive yet equally effective exercise alternative.
We may earn a commission from links on this page, but we only recommend products we back. Newsweek AMPLIFY participates in various affiliate marketing programs, which means we may get paid commissions on editorially chosen products purchased through our links to retailer sites.