As the U.S. prepares for a potential second wave of the coronavirus pandemic, health care workers on the front lines claim there is still a critical shortage of medical N95 respirators and other personal protective equipment (PPE).
Rachel Spray, a nurse at Kaiser Permanente Fresno Medical Center in Fresno, California, told the Associated Press that hospital management continues to ration its supplies, keeping the masks under lock and key.
Spray's observations spark worry that, if the U.S. is to experience another rapid influx of new COVID-19 infections similar to what was seen in New York in early spring, there would not be enough PPE to go around.
"N95s are still in a shortage," Mike Schiller, the American Hospital Association's senior director for supply chains, told the AP. "It's certainly not anywhere near pre-COVID levels."
There is still much pressure on the U.S.' medical supply chain, and in "many ways things have only gotten worse," Dr. Susan Bailey, the American Medical Association's president, said in a recent statement.
Health experts continue to express their concerns despite repeated messaging from White House officials who insist that U.S. hospitals have sufficient PPE supplies needed to handle the coronavirus.
In an August interview, White House trade adviser Peter Navarro pushed back at reports of PPE shortages.
"We have what we need to get the people what they need," he told the AP.
A spokesperson for the Department of Health and Human Services (HHS) told Newsweek that, under President Donald Trump's leadership, "the United States is in a fundamentally better position than just a few months ago with regard to access to PPE."
But an AP investigation found that it took the Trump administration months to sign contracts with companies that make meltblown textile, the crucial component in the production of N95 masks.
The White House has also not specifically restricted exports of the material, meaning that U.S. meltblown makers have continued sending their goods overseas during the course of the pandemic, according to an AP analysis.
Meltblowing is a manufacturing process which transforms plastic into a dense mesh, making the N95 masks so effective at blocking minuscule particles like coronavirus.
The Trump administration implemented the Defense Protection Act in April and May, creating "dramatic increases in domestic manufacturing capacity and reduced our reliance on foreign markets for essential supplies," the HHS spokesperson told Newsweek.
By securing manufacturing deals within the U.S., the Trump administration "continues to prioritize relationships with American companies to produce meltdown fiber," the spokesperson wrote in a statement.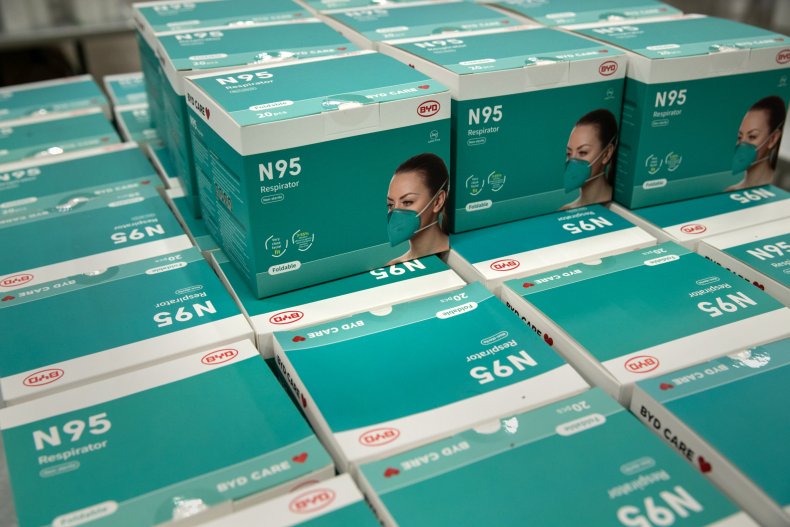 Front-line workers caring for COVID-19 patients who don't have access to N95 masks remain at the highest risk of infection, according to a study published this summer in the medical journal The Lancet.
"In the UK and the USA, risk of reporting a positive test for COVID-19 was increased among front-line health-care workers," the study found. "Health-care systems should ensure adequate availability of PPE and develop additional strategies to protect health-care workers from COVID-19, particularly those from Black, Asian, and minority ethnic backgrounds."
Hospital best practices dictate that health care workers should use one N95 mask per patient visit, meaning that a single nurse could go through several masks per day. Spray told the AP that she typically gets one N95 per shift.
Kaiser spokesman Marc Brown did not dispute this claim with the AP, but he stressed that members of the clinical staff are still able to safely care for patients.
"We continue to prudently manage PPE supplies to ensure they are readily available to protect our health care workforce for the duration of this pandemic," Brown told the AP.
The U.S. Food and Drug Administration included N95s (identified by its product code "MSH") in its most recent medical device shortage list. Officials added the surgical respirator on August 14, citing a "demand increase for the device" that would last for the "duration of COVID-19," and marked its availability as "limited supply."
As of Friday, the HHS, the Federal Emergency Management Agency and the private sector had delivered millions of PPE to states, including 100 million N95 masks, the HHS spokesperson told Newsweek.
"The federal government has taken great strides to meet the nation's critical medical supply needs, and at this time, all requests have been filled or are being filled, while additional requests from states are minimal," the spokesperson said.
Update (09/11/20, 8:46 p.m.): This article has been updated to include comments from a spokesperson with the Department of Health and Human Services.